Health Star Rating: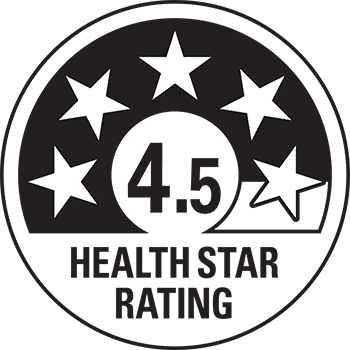 Goodness in every bite:
Plant-based
Good source of protein
Source of Iron
Good source of zinc
Good source of B12
Good Source of Dietary Fibre
Oven: Cook from frozen for 20-25 mins in a pre-heated fan forced oven at 180°C, turning once after about 15 mins.
BBQ or Pan Fry: Cook from frozen in a fry pan with a little oil for 14-17 mins. Turn to cook both sides.
Overcooking dries and toughens. Cooking times will be shorter if the product is thawed just before cooking. Make sure the product is heated thoroughly and evenly before eating. DO NOT RE-FREEZE THAWED PRODUCT.
Water, lentils (18%), vegetables (onion, potato, carrot), vegetable oil, vegetable protein (soy, wheat), sunflower kernels, brown rice, vegetable gums (guar, carrageenan), potato fibre, salt, sugar, yeast extract, spices, garlic, emulsifier (soy), minerals (zinc, iron), vitamin (B12).
Made in Australia from at least 53% Australian ingredients.
Contains (Allergens): Soy, Gluten, Wheat
May Contain Traces: Peanuts
Serving size: 75g Servings per pack: 4
- Saturated Fat (g)
0.9
1.2
Dietary Fibre (g)
5.9
7.8
Vitamin B12 (µg)
1.5 (75% RDI)*
2 (75% RDI)*
Iron (mg)
2.6 (22% RDI)*
3.5
Zinc (mg)
3.3 (28% RDI)*
4.4 (28% RDI)*
* Percentage of Recommended Dietary Intake (RDI)
*Percentage of Recommended Dietary Intake (RDI)