Health Star Rating: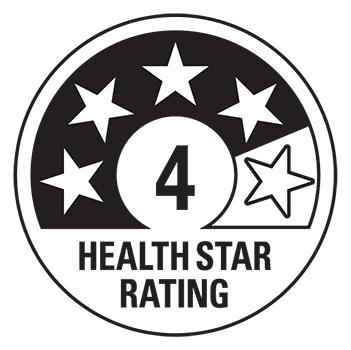 Goodness in every bite:
Plant-based
Good source of Protein
Good source of B12
Good source of Iron
Good source of Zinc
Stove Top: Empty contents into a saucepan and cook until heated through thoroughly.
Microwave: Empty contents into microwavable bowl, cover and heat on high for 2 mins, or until heated thoroughly.
Cooking times may vary. Ensure product is heated thoroughly and evenly before eating.
Water, Wheat Gluten, Wheat Flour (Thiamin, Folic Acid), Soy Sauce [Soy, Colour Caramel, Food Acid (Lactic Acid)], Sugar, Wheat Fibre, Flavour (Wheat, Colour Caramel), Modified Corn Starch, Colour Caramel, Spices, Minerals (Zinc, Iron), Vitamin (B12)
Made in Australia from at least 89% Australian ingredients.
Contains (Allergens): Soy and Cereals containing Gluten
May Contain Traces: Peanuts
Serving size: 138g Servings per pack: 3
- Saturated Fat (g)
0.6
0.4
Dietary Fibre (g)
1.7
1.2
Vitamin B12 (µg)
2.8 (140% RDI)*
2 (140% RDI)*
Iron (mg)
4.8 (40% RDI)*
3.5
Zinc (mg)
6.1 (51% RDI)*
4.4 (51% RDI)*
* Percentage of Recommended Dietary Intake (RDI)
*Percentage of Recommended Dietary Intake (RDI) based on an average adult died of 8700kj