Health Star Rating: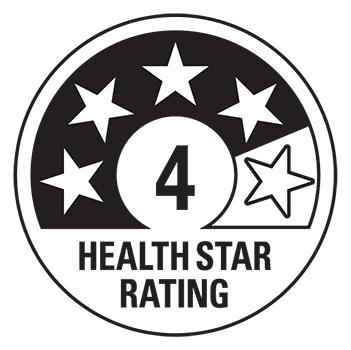 Goodness in every bite:
Plant-based
Good source of Protein
Excellent Source of Dietary Fibre
Good source of B12
Good source of Iron
Good source of Zinc
Opening Instructions
Open can on the end without the ring pull using a can opener.
Loosen the Nutolene by running a table knife around the inside of the can between the can body and the Nutolene.
Open the ring pull lid on the opposite end.
Carefully push the Nutolene through the can from the ring pull end.
Water, Peanuts, Salt, Minerals (Iron, Zinc), Vitamin (B12)
Made in Australia from at least 54% Australian ingredients.
Contains (Allergens): Peanuts
May Contain Traces: Gluten, Wheat, Soy
Serving size: 138g Servings per pack: 3
- Saturated Fat (g)
2.9
2.1
Vitamin B12 (µg)
2.8 (140% RDI)*
2.0 (140% RDI)*
Iron (mg)
4.8 (40% RDI)*
3.5
Zinc (mg)
6.1 (51% RDI)*
4.4 (51% RDI)*
* Percentage of Recommended Dietary Intake (RDI)