Health Star Rating: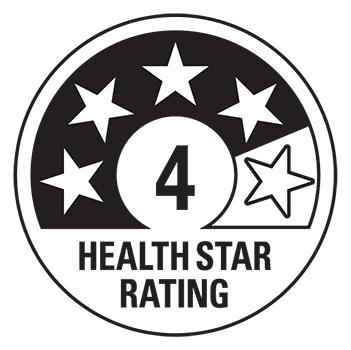 Goodness in every bite:
Good Source of Protein
Source of Dietary Fibre
Source of Iron
Good Source of Zinc
Good Source of B12
BBQ or Pan Fry: Cook from frozen in a non-stick frying pan or on a BBQ plate with a little olive oil at medium heat for 10-12 mins or until heated, turning once.
Oven: Cook from frozen at 180°C for 16-18 mins.
Overcooking dries and toughens. Cooking times will be shorter if the product is thawed just before cooking. Make sure the product is heated thoroughly and evenly before eating. DO NOT RE-FREEZE THAWED PRODUCT.
Water, Vegetable Protein (19%) (Wheat, Soy), Thickeners (Tapioca Starch, Potato Starch, Guar Gum), Breadcrumbs (Wheat, Sugar, Salt, Canola Oil, Yeast, Dextrose, Rice Bran Extract, Calcium Carbonate), Flavour (Onion, Garlic), Vegetable Oil, Rice Flour, Batter (Wheat, Onion, Garlic), Yeast Extract, Minerals (Zinc, Iron), Vitamin B12, Salt.
Made in Australia from at least 65% Australian ingredients.
Contains (Allergens): Soy, Cereals containing Gluten
May Contain Traces: Peanuts
Serving size: 75g Servings per pack: 4
- Saturated Fat (g)
0.7
0.9
Carbohydrate (g)
14.3
19.1
Dietary Fibre (g)
2.1
2.8
Vitamin B12 (µg)
1.5 (75% RDI)*
2.0 (75% RDI)*
Iron (mg)
2.6 (22% RDI)*
3.5
Zinc (mg)
3.3 (28% RDI)*
4.4 (28% RDI)*
* Percentage of Recommended Dietary Intake (RDI)
*Percentage of Recommended Dietary Intake (RDI) based on an average adult diet of 8700kJ