Health Star Rating: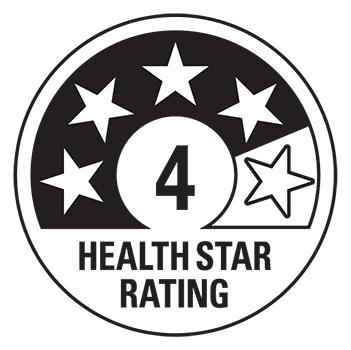 Goodness in every bite:
Plant-based
Good Source of Protein
Good Source of Iron
Good Source of B12
Good Source of Zinc
Vegan Friendly
Pan or BBQ: Remove from the packaging, place on a pan or BBQ on medium heat for 2 -3 minutes, turning occasionally.
Make sure the product is heated thoroughly and evenly before eating. Over cooking toughens and dries.
Ready to serve 2-3 minutes.
INGREDIENTS: Water, vegetable protein (25%) (wheat, soy), vegetable oil, starch (tapioca, potato), natural flavour, oats, breadcrumbs (wheat), sugar, salt, onions, mineral salt (potassium chloride), parsley, minerals (zinc, iron), vitamin (B12)
Made in Australia from at least 73% Australian ingredients.
Contains (Allergens): gluten, wheat, soy
May Contain Traces: Peanuts
Serving size: 100g Servings per pack: 3
- Saturated Fat (g)
1.1
1.1
Dietary Fibre (g)
3.5
3.5
Vitamin B12 (µg)
2.0 (100% RDI)*
2.0 (100% RDI)*
Iron (mg)
3.5 (29% RDI)*
3.5
Zinc (mg)
4.4 (37% RDI)*
4.4 (37% RDI)*
* Percentage of Recommended Dietary Intake (RDI)
*Percentage of Recommended Dietary Intake (RDI) based on an average adult diet of 8700kJ