Health Star Rating: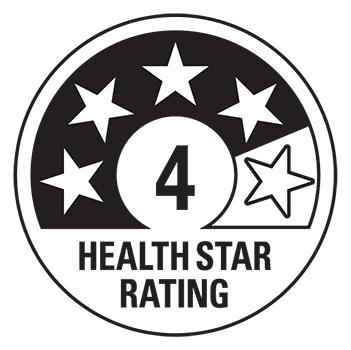 Goodness in every bite:
Plant-based
High in Protein
High in Iron
High in B12
High in Zinc
Meat & Dairy Free
Pan or BBQ: Remove from the packaging, place on a pan or BBQ on medium heat for 2 – 3 minutes, turning occasionally.
Make sure the product is heated thoroughly and evenly before eating. Over cooking toughens and dries.
Water, vegetable protein (22%) (wheat, soy), vegetable oil, starch (tapioca, potato), flavour (wheat, soy), oats, seasoning (wheat, soy, barley), sugar, breadcrumbs (wheat), yeast extract, onion, mineral salt (potassium chloride), minerals (zinc, iron), garlic, salt, vitamin (B12).
Made in Australia from at least 72% Australian ingredients.
Contains (Allergens): Gluten, Wheat, Soy
May Contain: Peanut
Serving size: 100g Servings per pack: 3
- Saturated Fat (g)
0.9
0.9
Dietary Fibre (g)
1.8
1.8
Vitamin B12 (µg)
2.0 (100% RDI)*
2.0 (100% RDI)*
Iron (mg)
3.5 (29% RDI)*
3.5
Zinc (mg)
4.4 (37% RDI)*
4.4 (37% RDI)*
* Percentage of Recommended Dietary Intake (RDI)
*Percentage of Recommended Dietary Intake (RDI) based on an average adult diet of 8700kJ