Health Star Rating: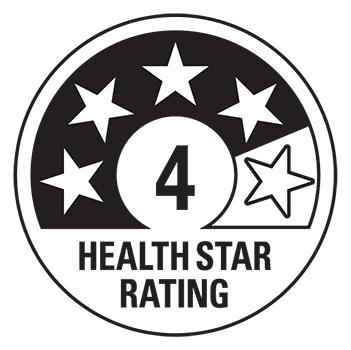 Goodness in every bite:
Plant-based
High in Protein
High in Iron
High in Vitamin B12
High in Zinc
Meat & Dairy free
Remove packaging, including the plastic casing and metal clips. Brush roast with oil and seasoning or desired glaze.
Place roast on a lined baking tray and cook for 25-30mins at 180°C.
Make sure product is heated thoroughly and evenly before eating. Overcooking toughens and dries.
Water, Vegetable Protein (25%) (Wheat, Soy, Wheat Gluten), Onion, Canola Oil, Starch (Tapioca, Potato), Flavour [Sugar, Maltodextrin, Salt, Yeast Extract, Flavour, Antioxidant (Vitamin E)], Oats, Crumb (Wheat), Garlic, Thickener (Carrageenan Gum), Minerals (Zinc, Iron), Vitamin (B12), Acidity Regulator (Citric Acid), Potassium Chloride, Chilli
Made in Australia from 68% Australian ingredients.
Contains (Allergens): Cereals containing Gluten, and Soy
May Contain Traces: Peanuts
Serving size: 120g Servings per pack: 4
- Saturated Fat (g)
0.8
0.7
Dietary Fibre (g)
4.2
3.5
Vitamin B12 (µg)
2.4 (120% RDI)**
2.2 (120% RDI)**
Iron (mg)
4.2 (35% RDI)*
3.5
Zinc (mg)
5.3 (44% RDI)*
4.4 (44% RDI)*
* Percentage of Recommended Dietary Intake (RDI)
**Percentage of Recommended Dietary Intake (RDI) based on an average adult diet of 8700kJ